Event Planner
From FloristWiki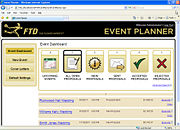 | | |
| --- | --- |
| | This feature is available beginning in FTD Mercury X3 Fall. |
Event Planner, introduced in FTD Mercury X3 Fall, provides an intuitive way to create event proposals for weddings, parties, or other events. During the proposal creation process, you can add products to the proposal (from your FTD Mercury product list), track rental equipment for the event, print and/or email the proposal to customers, and even print labels to use with products for the event. Once your customer has accepted your proposal, you can quickly turn products from the proposal into tickets in FTD Mercury, which you can then track as with any other tickets. Payments are handled via house accounts; you can either use an existing house account in your FTD Mercury system or create a new one for the event.
| | |
| --- | --- |
| | If you do not currently have access to Event Planner, contact Mercury Technology sales by calling 1-800-767-3222 or emailing TechSales@FTDi.com for details. |
| | |
| --- | --- |
| | Before you create an event in Event Planner for the first time, make sure you fill out default settings for each event type (and for each event type for each store, if you're in a multistore environment). |
Keep in mind that the Event Planner is a proposal creation system; once the proposal is accepted, work is done using familiar processes in FTD Mercury.
Event Planner Tasks
Event planner tasks are divided into three main areas: working with events, working with proposals, and administrative tasks.
Working with Events
Working with Proposals
Administrative Tasks
Address Verification Override
Event Planner Videos
The following videos are available for Event Planner:
Event Planner Interface
---