Event Planner: Accept Proposal Screen
From FloristWiki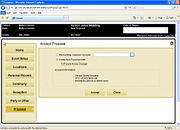 | | |
| --- | --- |
| | This feature is available beginning in FTD Mercury X3 Fall. |
When you click the Accept button on the Proposal screen, the Accept Proposal screen opens. From this screen, you can configure the house account to use for event; you can either use an existing house account or create a new account.
If you are specifying an existing house account, click the Search button (...) to open the Customer Search screen.
New accounts will be created using the event name. For new accounts, you can also specify that you want to prevent additional house charges on the account.
Click Accept to accept the proposal and create the new/use the existing house account.
---