Florists Online
From FloristWiki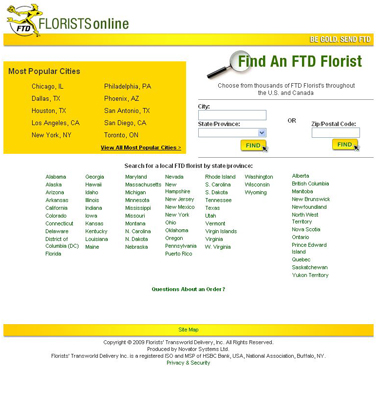 Welcome to the Florists Online Help Center. The Help Center will provide quick answers to the most common support questions as well as give instruction on how to make updates to your site.

As always, if you cannot find the answer to your question below please give us a call at 1-800-576-6721 or send an email to floristsonline@ftdi.com


If you would like to schedule training, fill out our training request.
Frequently Asked Questions
Web Portal
Web Portal is an easy-to-use tool that allows you to administer your website. Web Portal can be found at www.myftdsite.com.


News & Info tab – Here you will find tips on changes to make to your site as well as any important information from Florists Online.


Administration tab – This tab is where you go to make any changes to your website. This includes changing prices, altering the wording on your site, and changing the delivery fees. Learn more!


Reports tab – Here you can run reports on your site's performance including best sellers. Learn more!


My Account tab – This is where you can change your password.

Related Videos
| | | |
| --- | --- | --- |
| Video Name | Running Time | Download Video |
| What is Web Portal? | 2:36 | Link |
Florists Online Training Videos
We have created training videos to help you learn to use Web Portal! These videos will not only show you how to make changes, but also tell you why the changes are important. View the videos here!


Can't find an answer to your question? Fill out our training request or contact us at either 800-576-6721 or floristsonline@ftdi.com.