Content
From FloristWiki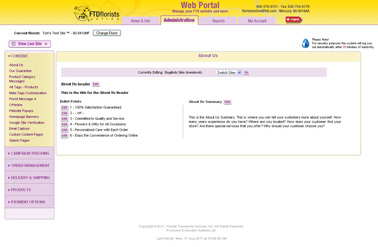 There are many areas that you can change the content on your website. Updating this information will give you better search engine results. View the individual sections to see how to update information and suggestions for updating.


About Us
Here you can update all the information on the About Us page. This includes the summary, the bullet points, and the header. You should also include a photo of your shop on this page. Learn more about the About Us page! Or, click the link below to the section that you would like to update for instructions on completing.
Our Guarantee
Here you can update the Our Guarantee page on your website. Tell your customers what your promise to them is. Learn more about the Our Guarantee page!
Product Category Messages
Include a message on your product categories to tell your customers why they should order from you for this occasion. Learn more about the Product Category Messages!
Florist Message A
This is your first opportunity to introduce yourself to your customers. Update this information so that your customers know why they should choose you. Learn more about Florist Message A!
Florist Message B
This is a second opportunity on your homepage to tell your customers about you. Get into as much detail as you would like with this message area. Learn more about Florist Message B!
Offerline
If a customer does a generic search for a florist, they will find the floristsonline.com page. You can include a message here to grab your customer's attention and tell your customers to choose you. Learn more about the Offerline!
Website Pop-ups
This pop-up on your homepage will allow you to draw your customer's attention to something specific on your site. Tell you customers about sales, specials, and events in this pop-up. Learn more about Website Pop-ups!
Homepage Banners
Navigation banners can be added to your homepage that will link to other pages in your site or to other sites. Learn more about Homepage Banners!
Google Site Verification
Verify your site with Google by inputting the coding that Google provides. Learn more about Google Site Verification!
Email Capture
Capture your customer's email addresses even if they do not place an order on your site. This will allow you to market to everyone that visits your site. Learn more about Email Capture!
Custom Content Pages
Content pages are an excellent way to share even more information with your customers. They can also be used to display a gallery of your wedding work. Learn more about how to use Content Pages!
Delivery Info Message
The wording on the Delivery Info page of your site can be updated to include specific instructions as well as list the cities and facilities that you deliver to. Learn more about the Delivery Info page!
Wedding Info Page
The content on your Wedding page can be updated. Use this area to provide your brides with important information about your work. Learn more about the Wedding Info Page!
Related Videos
| | | |
| --- | --- | --- |
| Video Name | Running Time | Streaming Flash Video |
| Changing the About Us Summary | 2:55 | Link |
| Changing Florist Message A | 3:08 | Link |
| Creating A Custom Content Page | 6:34 | Link |
Related Articles
How do I change information about the products on my website?
How do I change the Delivery & Shipping information on my website?
How do I suspend my website for a vacation or a holiday?
What languages is my site available in?


Can't find an answer to your question? Fill out our training request or contact us at either 800-576-6721 or floristsonline@ftdi.com.