Google Site Verification
From FloristWiki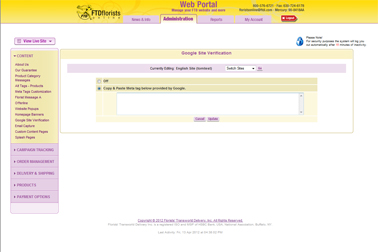 In order to use Google's webmaster tools (Google Analytics, Google Places, e-mail, etc), you must first verify your site with Google.


To retrieve the coding necessary to verify your site with Google (skip these steps if you aleady have Webmaster tools set-up with Google):
On the right, click Get Started
Input the domain name for your shop and click Get Started
Fill out the personal information.
Create the Administrator account – this is going to be the PRIMARY account.
You now have set-up an account with Google. To verify your domain:

Click on Dashboard.
At the top, click on Activate Google Apps
Select Alternate Methods
From the options, click on Add a meta tag to your site's home page
Copy the meta information and either e-mail to Florists Online or add in Web Portal under Google Site Verification


Login to Web Portal
Click on Administration on the top
Click on Google Site Verification on the left
Copy the Meta Tag provided by Google into the open field
Click on Update

On the Google Dashboard, click Verify

This verification process may take a few hours to complete. Once completed, you will be able to access and use Google's Webmaster Tools.


Related Articles
How do I update my information on Google Places?
How do I create an e-mail address using my domain?
How do I claim my site with Google Places?


Can't find an answer to your question? Fill out our training request or contact us at either 800-576-6721 or floristsonline@ftdi.com.