Product Category Messages
From FloristWiki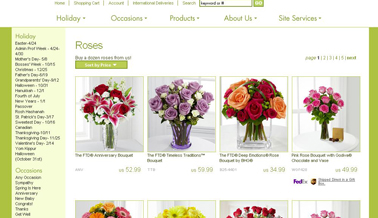 The Product Category Messaging section is the wording on each category page. The default is that there is NO message.


There is the option for both an Above products and Below products message.


In order to change the wording for Product Categories:

Login to Web Portal and Click Administration at the top
On the left, click on Content. This will open the content menu on the left.
Under Content on the left, click on Product Category Messaging.
Select the category you want to update by first selecting where it is located on your site. For example, the Roses category would be under Products; the Sympathy category would be under Occasions.
The current message will display (if one exists). Select Edit next to the message you would like to update (above or below)and input the information that you would like to display in the location you selected.
When finished editing the content, click on Update. This will save your changes.
Related Videos
| | | |
| --- | --- | --- |
| Video Name | Running Time | Streaming Flash Video |
| Adding Product Category Messages | 3:29 | Link |
| Moving Categories | 2:12 | Link |
| Adding Products to or Removing Products from Categories | 3:13 | Link |
| Sorting Products in Categories | 2:55 | Link |
| Creating A New Category | 3:31 | Link |
Related Articles
How do I change the order that my categories appear?
How do I add or remove an item from a category?
How do I change the order of the items in a category?
How do I create a new custom category?
How do I the wording on my Wedding Info page?
What languages are available for my site?


Can't find an answer to your question? Fill out our training request or contact us at either 800-576-6721 or floristsonline@ftdi.com.