Email Capture
From FloristWiki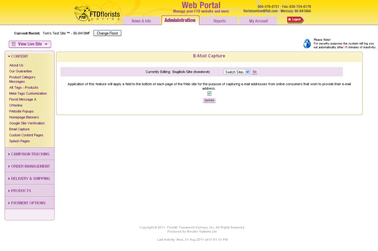 Your site has the ability to gather e-mail addresses from people that visit the site. You can then access this information to market to these customers.


To activate E-mail Capture:

Log into Web Portal and click Administration
On the left, click on Email Capture
If there is already a check in the only box in the center, that means that this is active. If there is no check, click on the box to activate this feature.
Click update to save.

On your site, this will display at the bottom of every page. It will tell visitors to the site to enter their e-mail address to obtain information about promotions and updates.


FTD does not use the information gathered here for ANY reason. This information is for you to market to your customers.


Related Videos
| | | |
| --- | --- | --- |
| Video Name | Running Time | Streaming Flash Video |
| Activating Email Capture | 2:17 | Link |
| Running the Marketing Opt-In Report | 2:52 | Link |
Related Articles
How do I obtain information about customers that have input their e-mail address?
If a customer has asked that they no longer receive e-mails, how do I find out?
What other Marketing Reports can I run?


Can't find an answer to your question? Fill out our training request or contact us at either 800-576-6721 or floristsonline@ftdi.com.