Content Pages
From FloristWiki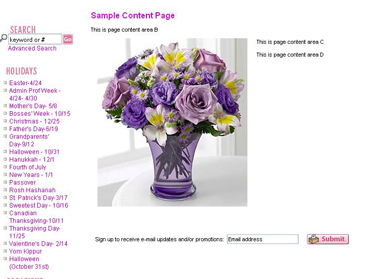 You have 5 content pages available to you. These are an excellent way to share even more information with your customers. Content pages will help improve your search engine results because they provide additional content for the search engines to crawl.


The About Us Bullet Points can be used as additional content pages as well.


Keep in mind that content pages are not categories for your customer to order from, but are additional pages about you and your shop.


Ideas for using your 5 content pages include:

Introduce your staff to your customers
Advertise upcoming events at your shop (open houses, parties, sales, etc)
Customer Testimonials or Reviews – show your customers what others have said about you
List of facilities such as Funeral Homes, Hospitals, Nursing Homes, Colleges/Universities
Galleries – Show off your wedding work or give pricing information about packages you offer
Involvements – Show the community organizations you are involved with. Promote not only the organization, but your involvement as well
Newspaper Articles about you or Rewards that you have received
Promote your other businesses such as your Garden Center or your Nursery

Though content pages can be set up in Web Portal, it is best to call Florists Online Support to set up the content page. Content pages can involve much HTML coding and Web Portal does not allow for you to input much of this. Also, in Web Portal, you can only upload one image per content page. For some ideas (such as a gallery), you will want to upload multiple images. Florists Online Support can do this for you.


If you decide to create the content page on your own:

Log in to Web Portal
Click on Administration at the top and then Content on the left
On the left under Content, click on Custom Content Pages
Click Create New Page
Select the template that you would like to use for the page you are creating
Enable the page (input dates if the page should only be visible at a certain time)
Fill out the information of the page. Location of the information depends on the template that you have selected
Click submit to save your changes and make the page live
Related Videos
| | | |
| --- | --- | --- |
| Video Name | Running Time | Streaming Flash Video |
| Creating A Custom Content Page | 6:34 | Link |
| Changing the About Us Summary | 2:55 | Link |
| Changing the About Us Bullet Points | 4:35 | Link |
| Changing Florist Message A | 3:08 | Link |
Related Articles
How do I add more information about my store?
How do I use the About Us Bullet Points as additional Content pages?
How do I change the message on my homepage?
How do I create a banner to direct customers to my content pages?
How do I add links to my facilities page on my Delivery Info page?
How do I add links to my gallery page on my Wedding Info page?
What languages are available on my website?



Can't find an answer to your question? Fill out our training request or contact us at either 800-576-6721 or floristsonline@ftdi.com.