Webgifts
From FloristWiki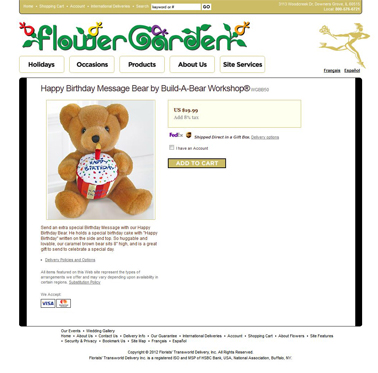 Adding WebGifts to your site is an excellent way to offer customers additional options. You do not even have to keep the items in stock yourself!


The benefits of having WebGifts on your site include:

You do not have to maintain the inventory
You do not have to build relationships with individual venders
Your customers have additional choices while shopping online
You receive 20% commission (normal sending commission)
You do not have to worry about merchandising the items
Earn sending rebates
Sent orders count towards members monthly quota
You do not have to offer every webgift item that is available. Florists Online Support can add or remove any Webgift Floral, Plant, or Gift items in bulk. You can remove any single item(s) that you would prefer not to offer.


Sending an order to Marketplace
Once you have received the order from your site, you are the only one aware of it. In order for Marketplace to deliver the order to your recipient, it needs to be submitted via your Mercury system.


The first thing you should do is charge the customer's credit card.


After charging the customer, wire the order to Marketplace just like any other wire-out order. You will send the order to shop code 90-0233AA.


Be certain to give Marketplace the full product SRP as well as the full delivery fee that is listed on your order.


Send the order to Marketplace as soon as you receive it. Your customer has paid a delivery fee based on the amount of time from when they placed the order to when the order is delivered. If you delay in sending the order to Marketplace, additional delivery fee(s) may be required.


Gift items include
Build-A-Bear
Sweets in Bloom
Eli's Cheesecake
Better Homes and Gardens
Starbucks
Mrs. Fields
Ghirardelli
Godiva
and many more!!!
Can't find an answer to your question? Fill out our training request or contact us at either 800-576-6721 or floristsonline@ftdi.com.