Product Activation-Pricing
From FloristWiki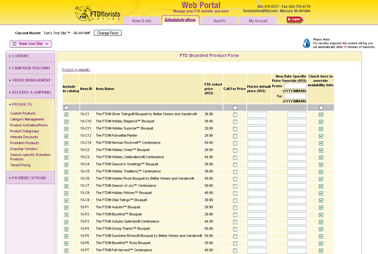 You control the items that are on your site. You also control the pricing.


In the Product Activation/Prices section, you can:

Product Activation
Turn products off that you no longer carry. If you have the item again, turn it back on. Learn more!
Change Your Everyday Prices
You control your pricing. Set your everyday prices so that your customers see the same price on your site that they are charged in your store. Learn more!
Call For Price
Set an item as Call For Price if you want the customer to have to call you to order. Learn more!
Date Specific Pricing
You can set your pricing by date. This allows you to set pricing for a holiday, or discount items during a specific time period. Learn more!
Override Availability
Seasonal and Holiday items are only available during certain times of the year. You can override this for your site. Learn more!
Update Entire Portion of the Floral Selection Guide
You can update multiple products at once assuming that they are all being increased or decreased by the same amount. Learn more!
Related Videos
| | | |
| --- | --- | --- |
| Video Name | Running Time | Streaming Flash Video |
| Changing Prices | 2:54 | Link |
| Adding Products to or Removing Products from Your Site | 3:11 | Link |
| Setting Promotion Products | 3:18 | Link |
| Setting the Good, Better, Best Pricing Defaults | 2:59 | Link |
Related Articles
How do I change category information?
How do I create a custom product?
How do I change the items that are displayed on my homepage?
How do I change the Good, Better, Best pricing?


Can't find an answer to your question? Fill out our training request or contact us at either 800-576-6721 or floristsonline@ftdi.com.