Tiered Pricing
From FloristWiki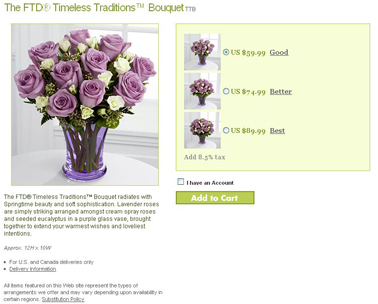 Activating the Good, Better, Best (GBB) pricing allows you to show different price points for items on your site. Doing so helps increase the average order value.

GBB Pricing - General Settings
In the General Settings tab for GBB pricing, you can set your default increases. This allows you to state how much an increase you want by default to step-up to the next tier. Learn More!
GBB Pricing - Update Products In Bulk
The Update Products In Bulk tab of GBB pricing allows you to change multiple items at one time. If you know that many items are going to have the same increase, but they are different from your default increase, you can update all of them at once. Learn more!
GBB Pricing - Update Specific Product By Type
You can also set the increases by individual product. This will allow you to set the better and the best prices for an individual product that does not fit with the defaults that you set. Learn more!
Related Videos
| | | |
| --- | --- | --- |
| Video Name | Running Time | Streaming Flash Video |
| Setting the Good, Better, Best Pricing Defaults | 2:59 | Link |
| Setting Good, Better, Best Pricing by Individual Product | 4:09 | Link |
| Changing Prices | 2:54 | Link |
Related Articles
How do I set the Good price for an item?


Can't find an answer to your question? Fill out our training request or contact us at either 800-576-6721 or floristsonline@ftdi.com.