FTD Florist Link Administration: Maintain Florist Link Marketing Page
From FloristWiki
| | |
| --- | --- |
| | This information applies to FTD Mercury X2 Fall and later versions, Mercury Connect, and Mercury Direct 5.0 and later versions. If you are an FTD Mercury or Mercury Direct customer and not on one of the versions where FTD Florist Link is included, contact the Mercury Technology Assistance Center (MTAC) at 1-800-309-2244 for information on how to upgrade to the current version. |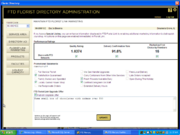 If you have a Special Listing, you can enhance information displayed in FTD Florist Link by enabling additional marketing information to distinguish your shop and potentially attract more orders from sending florists. All options on this page are enabled immediately in Florist Link when you click Update. These options are exclusive to Florist Link and do not appear in the printed FTD Florist Directory. If you do not have a Special Listing, selecting any of these options will prompt a call from FTD Directory Services about purchasing a Special Listing so you can access these features.
Performance Ratings
You can select to share performance ratings with other florists via Florist Link. If your ratings are positive, they can potentially encourage florists to select your shop for outgoing orders. There are three ratings you can share:
Quality Rating - This is your quality rating from the last completed quality rating cycle, as published on your statement. The rating is identical to the rating you would have received in the second statement of the current FTD Florist Directory cycle (February, June, or October). More information about the quality rating is available with the FTD Quality Star Program.
Delivery Confirmation Rate - This is your ontime delivery confirmation rate for the last three full months. The higher the percentage, the better you are at sending delivery confirmations within the timeframe set forth in the FTD Delivery Confirmation Program.
Marked as First Choice by Members - This shows the number of florists who have marked your shop as First Choice in FTD Florist Link. This is tied to the specific florist code you are displaying; if you have multiple shop codes, you should review and share this rating on a code-by-code basis.
| | |
| --- | --- |
| | If you click on the Marked as First Choice by Members label, the Preferred Counts Window opens, where you can see how many florists have marked you as Preferred or Do Not Use as well, but you cannot publish these ratings. |
Promotional Statements
You can also select up to four promotional statements to display with your information in Florist Link. These can help you advertise to other florists without putting the statements into the Special Listing in the printed FTD Directory itself. Depending on your marketing efforts, rotating these periodically may assist in keeping your information fresh, especially during the holidays. You can choose up to four from the following statements:
Full Service Florist
Satisfaction Guaranteed
Family Owned and Operated
Locally Owned Flower Shop
We Reciprocate Orders
We Can Handle Upgrades
Carry Containers from Other Wire Services
Fresh Flowers Available Daily
Certified Designers on Staff
Extended Delivery Hours
Free Local Delivery
Late Orders Accepted
Open During the Holiday
FTD Florist Link Upgrade Offer
If desired, you can create an upgrade offer for sending florists. For example, you may want to include a vase upgrade or free chocolates for orders sent to you above a certain amount. When you click the Publish Upgrade Offer check box, you can fill out your offer that will appear when a florist hovers over your listing in the results list or on the map in Florist Link or when they open the Florist Detail window for your shop.
---