Dropship Venders
From FloristWiki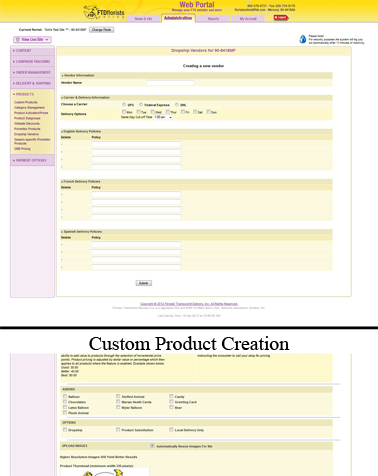 You may have a relationship with a vender that FTD does not. By creating a dropship vender on your website, you would be able to create custom products that have specific delivery fees depending on the day the order is being delivered.


In order to set-up a dropship vender:

Login to Web Portal (www.myftdsite.com)
Click Administration at the top
Click Products on the left
Click Dropship Venders on the left
Click the "Create New Vender" link
Give the vender a name
Select which carrier the vender will be using (this will tell your customer that you are not delivering, but that the order will come via FedEx for example)
Mark the days that items can be delivered
Select the cut-off time from the drop down. This cut-off time determines what delivery dates are available for the customer. For example, if you set the cut-off time as 2pm and the customer placed the order at 3pm on Monday - Overnight deliver would no longer be Tuesday, but would be Wednesday instead.
Input any delivery policies that you need to share with your customer. Be sure to input English, French, and Spanish if you have additional languages available on your site
Click Submit
You have now created the vender. You need to assign a custom product to a vender.


While creating/editing a custom product:

In the "Options" section select "Dropship"
Chose a vender from the dropdown list
Select which delivery types are available and input the fee for each type


Overnight
2 day
Ground
Saturday
Alaska & Hawaii

Warning: If you turn on one of the delivery options and do not input a delivery fee, the customer will be charged $0 for delivery
Finish creating the product and click "Submit"
Related Videos
| | | |
| --- | --- | --- |
| Video Name | Running Time | Streaming Flash Video |
| Creating Custom Products | 6:36 | Link |
| Changing Prices | 2:54 | Link |
| Setting Promotion Products | 3:18 | Link |
| Adding Products to or Removing Products from Categories | 3:13 | Link |
| Sorting Products in Categories | 2:55 | Link |
Related Articles
How do I create a custom product?
How do I change a price for a custom product?
How do I add a custom product to my homepage?
How do I add a custom product to a category?
How do I change the order of the items in each category?
How do I change the GBB pricing for an individual item?
What languages are available on my website?


Can't find an answer to your question? Fill out our training request or contact us at either 800-576-6721 or floristsonline@ftdi.com.