Generate Statements Window
From FloristWiki
This information applies to FTD Mercury X2 Fall and later versions.
---
The Generate Statements window allows you to generate customer statements (print, fax, or email). Doing so regularly will help you maintain an even cash flow.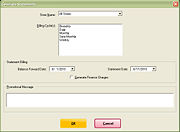 Following are the fields in the Generate Statements window:
Field
Description
Store Name
Highlight the name of the store for which you want to generate statements, or select All Stores to generate statements for all of your stores.
Billing Cycle
Highlight the billing cycle(s) for which you want to generate statements.
Statement Billing
Select both the Balance Forward Date and Statement Date for billing. The Balance Forward Date is the beginning of the range and the Statement Date is the end of the range; transactions falling in the range are annotated on the statement. Any balances that exist prior to the Balance Forward Date are reflected in the Previous Balance for Balance Forward customers. For Open Item customers, all invoices that have not been paid in full are included in the statement activity regardless of the Balance Forward Date.


You can also select Generate Finance Charges if you want finance charges to be calculated on customer statements. (A window will appear after you click OK that will allow you to remove finance charges for individual customers.)

Promotional Message
Type any message text you would like to print on this batch of generated statements. You may enter up to three lines of text.
Click OK to begin the statement generation process.
Invoice Billing
You can also perform invoice billing from the Invoice Billing Window.