Website Discounts
From FloristWiki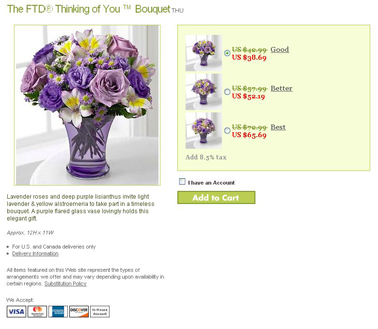 You can create a discount on your site. You can either allow everyone to receive the discount (mark items as on sale), or you can require a code to be input.


In order to create a discount using a promo code:

Login to Web Portal and click on the Administration tab at the top
On the left, click on Products
On the left, under Products, click on Website Discounts
In the center, click on Add Coupon
You will now see a dropdown that allows you to select what type of discount you would like to create
Mark the discount Active
Give the Coupon a name and description
Order Date Availability refers to the date range the order has to be placed in for the discount to be valid.
Delivery Date Availability is the date range the order has to be DELIVERED by in order for the coupon to be valid.
If a Promo Code will be required in order to receive the discount, select Promo Code and then input the code the customer will use to get the discount
Input the discount amount that the customer will receive
Input this into Minimum Price required to apply the discount
Added Floral Value refers to the Better & Best pricing. Mark this if the discount will apply to the increase as well
All discounts should be applied BEFORE tax unless otherwise advised by a local tax advisor
Select how you would like the customer to see the discount displayed
Check where the order can be delivered if the customer is using the discount
Select which products the discount applies to
At the bottom, click Add Discount
Related Videos
| | | |
| --- | --- | --- |
| Video Name | Running Time | Streaming Flash Video |
| Setting A Discount with A Promotion Code | 6:38 | Link |
| Setting A Discount without A Promotion Code | 5:38 | Link |
| Changing Prices | 2:54 | Link |
| Setting Prices by Date | 3:19 | Link |
| Creating A Website Pop Up | 3:26 | Link |
Related Articles
How do I change the prices on my website?
How do I set a price for a specific date range?
How do I create a pop-up on my website so that I can display the sale information to my customers?
Can a customer place an order on my site for pick-up at my store?


Can't find an answer to your question? Fill out our training request or contact us at either 800-576-6721 or floristsonline@ftdi.com.