FTD Mercury Mobile Order Detail Screen
From FloristWiki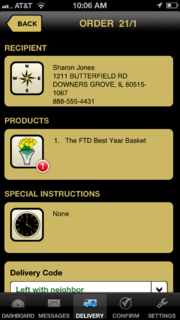 | | |
| --- | --- |
| | This feature requires FTD Mercury X4 and Mercury Delivery. |
The Order Detail screen opens when you tap on an order from the Route Detail screen in FTD Mercury Mobile Plus (X4). This screen displays the following information:
Recipient - The recipient's delivery and contact information—name, address, and telephone number. If you tap on the Map icon in the Recipient area, the Map screen opens and displays a map with turn-by-turn text directions from your current location to the recipient's address.
Products - Lists the products in the order, and the total quantity for the order. The number in the red ball icon shows the total number of products in the order.
Special Instructions - Any special delivery instructions for the order, such as, "Leave with neighbor."
Delivery Code - At the bottom of the screen, you can select from a list of delivery codes for your shop. When you click Send, the order is marked with that delivery code in Mercury Delivery.
In FTD Mercury Mobile Plus (X4), you can mark orders as delivered by either selecting a delivery code on the Order Detail screen, or entering the order and ticket number on the Mark Order Delivered page.
If your shop has set up customers (including originating florists) for delivery confirmation, when you select "Delivered," the customer automatically receives an e-mail messages notifying them of the delivery.
If a delivery code is associated with an undelivered order (such as, "Not At Home," or "Office Closed"), the order will be placed in Follow Up Deliveries in Mercury Delivery for a later delivery attempt.
---