Suspension Messaging
From FloristWiki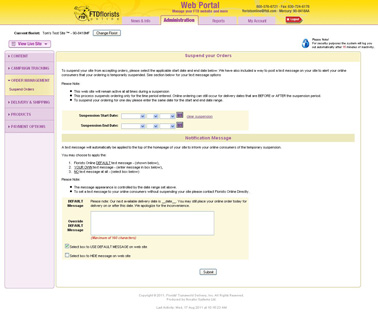 When you suspend your site for any period of time, a message will appear both at the top of the homepage and on the category pages in a RED bar.


In order to change this message:

Login to Web Portal (www.myftdsite.com) and click on Administration at the top
On the left, click on Order Management
On the left under Order Management, click on Suspend Orders
Below where you have input the dates of suspension, you will see a section titled Messaging. Input the message that you would like to display to your customers.
Scroll to the bottom and click Submit

This will only alter the message in the RED bar at the top of the website. This will NOT change the message on the individual products that states that the product is not available for delivery. The message for the individual products can not be altered.

Related Videos
| | | |
| --- | --- | --- |
| Video Name | Running Time | Streaming Flash Video |
| Altering the Suspension Message | 2:42 | Link |
| Suspending FOL Orders | 3:33 | Link |
| Suspending A Portion of Your Site | 3:16 | Link |
Related Articles
How do I suspend my site?
How do I suspend individual items on my site?
How do I change the cut-off time for same day delivery?


Can't find an answer to your question? Fill out our training request or contact us at either 800-576-6721 or floristsonline@ftdi.com.