Software License Window
From FloristWiki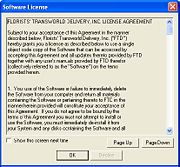 The Software License window opens when you select License Agreement from the Help menu.
Carefully read the license agreement in this window. To read the entire license agreement, click the Page Down button each time you are ready to read the next page. When you reach the end of the agreement, the Accept button will become active. Click this button to start your FTD Mercury software.
If do not want to see this license agreement window again, ensure the Show this screen next time box is not checked.
If you do not agree with the terms of the license agreement, click Decline. The software will not start. Contact the FTD Technology Sales Department at 1-800-767-3222 to discuss the terms of the license agreement.
---