Sending a related message
From FloristWiki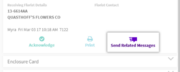 You can send order related messages in the Message Details and Order Details sections.

In Alerts, navigate to the message for which you'd like to send a related message.
Click the arrow in the message details.
At the bottom of the message details, click Send Related Message.

Note: Many of the fields in the related message will be automatically populated based on the originating message details.

From the dropdown, choose the type of message you'd like to send:

ANSwer
CANcellation
FORward
CONfirm
DENy
REJect
DCON
ASK

From the dropdown, select a reason for the message.
Type additional information in the box.
Click Send to send the related message.

Tip: If you're not ready to send your message, click Cancel to return to the related message.