Logging In to Web Portal
From FloristWiki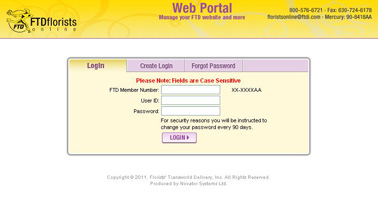 Once you have logged into Web Portal, you have the ability to make many changes to your site, run reports on the performance of your site, and obtain information about your customers in order to market to them.


If you do not have an ID to log in or you are uncertain what your ID is, you can contact Florists Online at 800-576-6721 for assistance.


In order to login to Web Portal:

Navigate to Web Portal (www.myftdsite.com)
Input your shop code. You must include both the dash (-) and the AA
Input your username: This is case sensitive and most likely all lowercase
Input your password: This is case sensitive. Passwords must be 7 characters long and include at least one number and at least one letter.
Click login

Related Videos

| | | |
| --- | --- | --- |
| Video Name | Running Time | Streaming Flash Video |
| Logging into Web Portal | 2:02 | Link |
| Retrieving a Forgotten Password | 3:17 | Link |
| Changing Your Password | 2:15 | Link |




Related Articles

How do I retrieve a password if I have forgotten mine?
How do I change my password?
How do I make changes to my website?



Can't find an answer to your question? Fill out our training request or contact us at either 800-576-6721 or floristsonline@ftdi.com.