FTD Florist Link Administration: New Facility Request Window
From FloristWiki
| | |
| --- | --- |
| | This information applies to FTD Mercury X2 Fall and later versions, Mercury Connect, and Mercury Direct 5.0 and later versions. If you are an FTD Mercury or Mercury Direct customer and not on one of the versions where FTD Florist Link is included, contact the Mercury Technology Assistance Center (MTAC) at 1-800-309-2244 for information on how to upgrade to the current version. |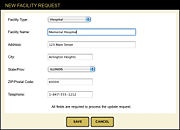 The New Facility Request window opens when you request a facility be added to the facilities list for a city from the Maintain Facilities page. To request a new facility, you must fill out all of the following information:
Facility Type - Select the facility type (nursing home, hospital, or funeral home).
Facility Name - Enter the facility name.
Address - Enter the street address for the facility.
City - Enter the city where the facility is located.
State/Prov - Enter the state or province where the facility is located.
ZIP/Postal Code - Enter the ZIP or postal code for the facility.
Telephone - Enter the facility's telephone number.
When you click Save, the request will be sent to FTD Directory Services for inclusion in the master facility directory.
---