FTD Florist Link Administration: Maintain Service Area Page
From FloristWiki
| | |
| --- | --- |
| | This information applies to FTD Mercury X2 Fall and later versions, Mercury Connect, and Mercury Direct 5.0 and later versions. If you are an FTD Mercury or Mercury Direct customer and not on one of the versions where FTD Florist Link is included, contact the Mercury Technology Assistance Center (MTAC) at 1-800-309-2244 for information on how to upgrade to the current version. |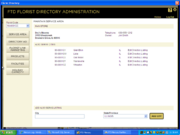 When you click the Service Area button, the Maintain Service Area page opens for the selected florist code. Information about your main store is provided, as well as any cities you also serve. From this window, you can add additional Also Serve listings.
If you want to view or change the directory listing for a city, you do this in one of two ways (depending on whether you are viewing/changing a listing for your main store or for an Also Serve city):
Main Store - Click the Directory Listing button on the left side of the screen.
Also Serve city listing - Click the Edit Directory Listing link to the right of the city.
Change requests will be sent to FTD Directory Services for processing and you will be called back by phone. There is typically a 10 business day processing time.
---