Deleting an employee
From FloristWiki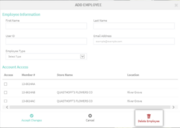 Mercury cloud administrators can delete an employee account.


In the left sidebar, click My Account.
In the "Maintenance" section, click Employee.
Navigate to the employee you'd like to delete and click the arrow to the right of the employee details.  
At the bottom of the "Modify Employee" page, click Delete Employee.