Suspension by SKU
From FloristWiki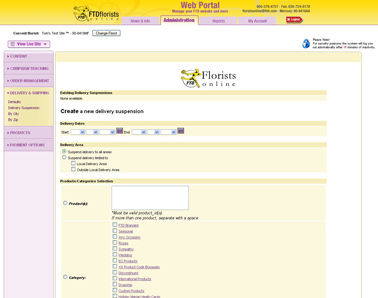 You can suspend specific items on your site so that they are not available for delivery during a specific time.


You can also suspend areas of delivery (local or outside local) so that during a busy time you only continue to receive orders that you can process.


Keep in mind, this only suspends a portion of your website. If you need to suspend your entire website because you are closed, you should not use this option.


In order to suspend individual items, or delivery areas on your website:

Log in to Web Portal and click on Administration at the top
On the left, click on Delivery & Shipping
On the left under Delivery & Shipping, click on Delivery Suspension.
Input the start and end date for the suspension. These dates are inclusive. So, if you are only suspending for one day, you would input the same date as both the start and end date.
Delivery Area – Are you suspending the specified item(s) in ALL areas, or just a particular area. Select this in the Delivery Area section. Local Delivery Area are all the cities you have listed that you deliver to. Outside Local are all the areas that you wire to another shop.
Input the individual products you would like to suspend, the portions of the Floral Selection Guide you would like to suspend, or all products.
Click Submit.
Related Articles