Suspension
From FloristWiki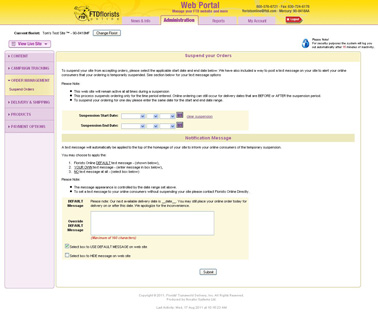 It is important to suspend your site for days you are not delivering. For example, if you are not going to be delivering on Christmas Day (12/25) you should suspend your website for that day. This will prevent orders from being placed for delivery on that day.


In order to suspend your site:
Login to Web Portal (www.myftdsite.com) and Administration
On the left, click on Order Management
On the left under Order Management, click on Suspend Orders
Click Clear Suspension to remove any old data
In the center, input the start and end date for when you will not be delivering. This IS inclusive. So, if you are only suspending for one day, you would input this one date as BOTH the start and end date
Scroll to the bottom and click Submit

A few notes:
Only one time period can be input at a time
Your site will suspend for the ENTIRE day. If you are delivering in the morning and only want to suspend in the afternoon, you will want to wait until that afternoon to suspend
You will continue to receive orders even if your site is suspended as long as the order is to be DELIVERED outside of the suspension time period
Related Videos
| | | |
| --- | --- | --- |
| Video Name | Running Time | Streaming Flash Video |
| Suspending FOL Orders | 3:33 | Link |
| Altering the Suspension Message | 2:42 | Link |
| Adding Products to or Removing Products from Your Site | 3:11 | Link |
Related Articles
How do I suspend a single item on my site?
How do I change the message displayed at the top of my site when the site is supsended?
How do I remove an item from my website?
How do I update the products on my homepage?
How do I change the cut-off times for same day deliveries on my site?


Can't find an answer to your question? Fill out our training request or contact us at either 800-576-6721 or floristsonline@ftdi.com.