Reports
From FloristWiki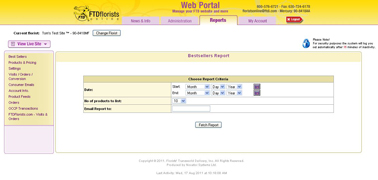 You can run many reports to determine your site's performance. This can direct you as to what changes you might need to make to your site in order to improve the number of visits or orders placed on your sites.

Best Sellers
This report will show which items sell the best on your site. You can run this for any 90 day period. Running this report will help you determine which items you should feature either on your homepage or in individual categories. Learn more!
Products & Pricing
This report will let you look at any category on your site and see which items you have activated as well as the pricing you have set for these items. This can help in adjusting prices on your site. Learn more!
Settings
This report will let you see the different settings you have for your site including the cities you deliver to, the service fee you charge, the tax rate on your site and much more. Learn more about this report!
Visits / Orders / Conversion
This report will let you see how many customers visit your site each month. It will also show you how many orders are placed each month. This report will even allow you to break this information down by individual day. Learn more!
Orders
This report will give you information about every order placed on your site. This includes Credit Card information for your orders. Learn more!
Related Videos
| | | |
| --- | --- | --- |
| Video Name | Running Time | Streaming Flash Video |
| Running the Best Sellers Report | 2:40 | Link |
| Running the Products & Pricing Report | 2:15 | Link |
| Running the Settings Report | 2:49 | Link |
| Running the Visits / Orders / Conversion Report | 2:12 | Link |
| Accessing Order Information Including Credit Card Info | 3:26 | Link |
Related Articles
How do I make changes to my site?
How do I change the products on my homepage?