Remove Product
From FloristWiki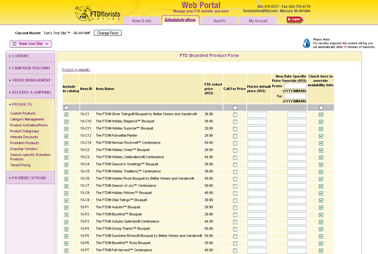 It is important that your customers see the items that you have available. If a product is no longer available in your store, be sure to disable it on your website also so that you do not receive any orders for this item. In addition, if you sell something in your store that is not activated on your site, be sure to correct this so that your customers will see the item when they visit your site.


Unless you specify otherwise, the entire Floral Selection Guide is available on your site.


In order to enable or disable items:

Log in to Web Portal (www.myftdsite.com)
Click Administration at the top and then Products on the left
On the left under products, click Product Activation/Prices
If you only need to change a single product, you can search for that product using the product code. If you have multiple to change, select the portion of the Floral Selection Guide that you would like to update.
The first column says "Include in Catalog". A check mark next to the item in this column means that the item is available on your site.
Click on the box next to the item to add/remove the check mark.
At the bottom, click submit.

These changes are saved only when you click submit. The changes are available on your site immediately, however you may need to refresh your screen in order to see the updates.

Related Videos
| | | |
| --- | --- | --- |
| Video Name | Running Time | Streaming Flash Video |
| Adding Products to or Removing Products from Your Site | 3:11 | Link |
| Setting An Item As Call For Price | 3:17 | Link |
| Changing Prices | 2:54 | Link |
| Setting Prices by Date | 3:19 | Link |
| Overriding Product Availability | 3:14 | Link |
| Suspending A Portion of Your Site | 3:16 | Link |
Related Articles
How do I change prices on my website?
How do I set an item as call for more information?
How do I set pricing for a specific date range?
How do I change all my pricing at one time?
How do I override the availability of a seasonal item?
How do I change the items that are in each category?
How do I suspend an individual item for a specific time period?



Can't find an answer to your question? Fill out our training request or contact us at either 800-576-6721 or floristsonline@ftdi.com.