Reminders Report
From FloristWiki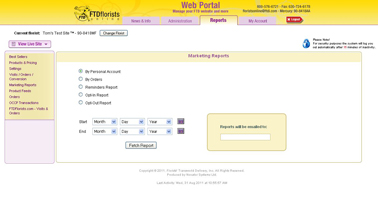 The Reminders report will allow you to run a report of reminders that the customer has created when setting up an account.


This report will give you the customer's name, e-mail address, address, and phone number. It will also tell you what reminder they have created.


This is a FREE way to obtain information about your customers so that you can contact them about specials, promotions, updates, and events that you might have.


In order to run this report:

Login to Web Portal and click on Reports at the top
On the left, click on Marketing Reports
In the center, select Reminders Report
Input the date range for the report. There is no limit to the date range. However, you are running the report for future reminders, so you can not select a date in the past.
Input an e-mail address for the report to be sent to
Click Fetch Report
Related Articles
How do I view customer account information?
How do I view orders placed by occasion?
How do I obtain e-mail addresses for customers that have input them on my website?
How do I know what customers have stated that I can no longer contact them?


Can't find an answer to your question? Fill out our training request or contact us at either 800-576-6721 or floristsonline@ftdi.com.