Promo Products
From FloristWiki
(Difference between revisions)
Line 57:
Line 57:

[[Custom Products | How do I create a Custom Product?]]<br>

[[Custom Products | How do I create a Custom Product?]]<br>

[[Florist Message A | How do I change the message on my homepage?]]<br>

[[Florist Message A | How do I change the message on my homepage?]]<br>

-

<!--[[Season-Specific Promo Products | How do I change the products on the lower left of the Cafe Chic template?]]<br>-->

+

[[Season-Specific Promo Products | How do I change the products on the lower left of the Cafe Chic template?]]<br>

[[Date-Specific Promo Products | How do I change the products on my homepage for a particular date?]]

[[Date-Specific Promo Products | How do I change the products on my homepage for a particular date?]]
---
Revision as of 15:51, 23 August 2011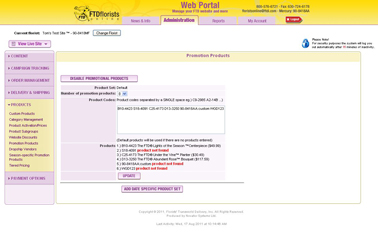 Promotional Products are the items that are displayed on the homepage of your website. It is important that these are your best sellers because these are the first items that your customers will see.


Often, customers order directly from your homepage, so the items listed here should include a variety of items including:

A rose item
A sympathy item
A seasonal item
A webgift
A plant
A basket

It is recommended that you have 6-9 items on your homepage.


In order to update the items displayed on your homepage: