Price Changes
From FloristWiki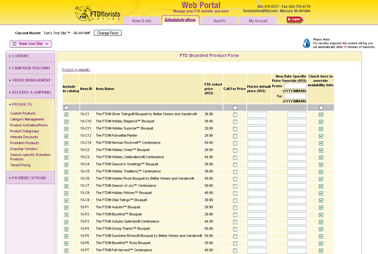 It is important that your customers receive the same price whether they call your shop, come into your shop, or visit your shop on the internet. If you increase or decrease your price in your store, be sure to do the same online so that your customers are charged appropriately, and so you receive the correct amount needed to fill the order.


Unless you specify otherwise, all products are listed with the FTD suggested retail price.


In order to change your prices:

Login to Web Portal (www.myftdsite.com)
Click on Administration at the top and then Products on the left.
Under Products, click on Product Activation/Prices on the left
If you only need to change a single product, you can search for that product using the product code. If you have multiple to change, select the portion of the Floral Selection Guide that you would like to update.
To change a price, input the price that you want for each product in the column "Florist Default Price"
At the bottom, click submit

Clicking submit saves your changes and makes them live on your site immediately. You may need to refresh your screen in order to see the updates.
Related Videos
| | | |
| --- | --- | --- |
| Video Name | Running Time | Streaming Flash Video |
| Changing Prices | 2:54 | Link |
| Setting Prices by Date | 3:19 | Link |
| Updating the Price for an Entire Category | 2:45 | Link |
| Adding Products to or Removing Products from Your Site | 3:11 | Link |
| Setting the Good, Better, Best Pricing Defaults | 2:59 | Link |
| Setting A Discount with A Promotion Code | 6:38 | Link |
| Setting A Discount without A Promotion Code | 5:38 | Link |
Related Articles
How do I set pricing for a specific date?
Can I update all my prices at one time?
How do I add or remove an item from my site?
How do I set the Good, Better, and Best price?
How do I override an individual item so that it is always available?
How do I set an item as Call us for more information?
How do I set a discount on my site?


Can't find an answer to your question? Fill out our training request or contact us at either 800-576-6721 or floristsonline@ftdi.com.