Mercury Direct: Selection Guide
From FloristWiki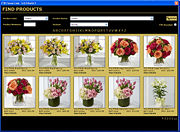 Mercury Direct provides you with an online version of your FTD Selection Guide. The FTD Selection Guide is a list of all of the FTD products that are currently available for sale. The online Selection Guide lists each arrangement with a color photo, along with the arrangement's product code, size, suggested retail price, and the arrangement recipe. Your designers can work directly from this Selection Guide to inquire about products, or print photos and descriptions.
Accessing the FTD Selection Guide
To access the FTD Selection Guide in Mercury Direct:
On the Mercury Direct Main Menu, either click the Selection Guide button or from the Search menu, click Selection Guide.
NOTE: You can also access the FTD Selection Guide by clicking on the magnifying glass icon in either of the product fields when entering an order.
Looking Up Products in the Selection Guide
There are several ways to look up products in the FTD Selection Guide:
By Product Code
By Product Name
By Product Minimum
By Section
You can also restrict your search to FTD Branded products only by clicking the FTD Branded check box. If the box is cleared, all results will be displayed.
You can search using one or more of these criteria; if you choose multiple criteria, the product must match all of the criteria to be displayed in the results.
Using the FTD Selection Guide in Product Search
When entering an order, you can use the FTD Selection Guide to select products in the Product fields. For example if a customer orders the Autumn Splendor® Bouquet, you can access the Selection Guide from the product fields to look up and select the product code information.
To select a product in the 1st Choice or 2nd Choice fields:
Click on the magnifying glass icon in the product field to access the FTD Selection Guide.
When the Find Products window opens, perform a search to locate the product the customer wants to send.
When the product is displayed on the screen, click the Select Product link. This will copy the product information into the order for you.
NOTE: If you select an FTD Branded product as the first choice product, then it is highly suggested that you select a "generic" product (such as "Fresh Arrangement") as a second choice product. This will ensure that the filling florist will be able to fill the order if the first choice product is unavailable.
Viewing Product Details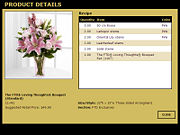 When you first search for a product, a thumbnail image is displayed for the product. If you want to view details about the product, click the View Details link below the thumbnail. This opens the Product Details window, which displays a larger image, the product recipe, the size and style, and the suggested retail price.