FTD Florist Link Administration: Maintain Holiday Capacity Page
From FloristWiki
(Difference between revisions)
(2 intermediate revisions not shown.)
Line 5:
Line 5:

</td>

</td>

<td>

<td>

-

This information applies to FTD Mercury X2 Fall and later versions, Mercury Connect, and Mercury Direct 5.0 and later versions. If you are an FTD Mercury or Mercury Direct customer and not on one of the versions where FTD Florist Link is included, contact the Mercury Technology Assistance Center (MTAC) at 1-800-309-2244 for information on how to upgrade to the current version.

+

This information applies to FTD Mercury X2 Fall and later versions and Mercury . If you are an FTD Mercury and not on one of the versions where FTD Florist Link is included, contact the Mercury Technology Assistance Center (MTAC) at 1--309-2244 for information on how to upgrade to the current version.

</td>

</td>

</tr>

</tr>

Line 11:
Line 11:

[[Image:FloristLinkAdmin_HolidayCapacity.png|thumb|Maintain Holiday Capacity Page]]

[[Image:FloristLinkAdmin_HolidayCapacity.png|thumb|Maintain Holiday Capacity Page]]

-

The Holiday Capacity page enables you to indicate the total number of FTD wire-in orders (FTD.com orders and florist-to-florist orders) that you can fulfill during the major floral holiday periods. To help you make intelligent decisions about your capacity, historical wire orders for the same period during each of the last two years is provided as a reference.

+

The Holiday Capacity page you the total number of FTD wire-in orders (FTD.com orders and florist-to-florist orders) that you can fulfill during the major floral holiday periods. To help you make intelligent decisions about your capacity, historical wire orders for the same period during each of the last two years is provided as a reference.

When you access the page by clicking the Holiday Capacity button in FTD Florist Link Administration, you are able to see the details for the store relating to the holiday capacity (to ensure you are looking at the correct shop code). You are also able to select the floral holiday from the Holiday list. Below the list, your historical wire orders are displayed by year - each day and date provided in a calendar-like view. If it helps you visualize the days before and after the holiday, you can click the Align Holiday check box to align the calendars. The number below each date is the combined number of FTD.com and florist-to-florist orders you fulfilled on that date for that year.

When you access the page by clicking the Holiday Capacity button in FTD Florist Link Administration, you are able to see the details for the store relating to the holiday capacity (to ensure you are looking at the correct shop code). You are also able to select the floral holiday from the Holiday list. Below the list, your historical wire orders are displayed by year - each day and date provided in a calendar-like view. If it helps you visualize the days before and after the holiday, you can click the Align Holiday check box to align the calendars. The number below each date is the combined number of FTD.com and florist-to-florist orders you fulfilled on that date for that year.

Line 29:
Line 29:

</tr>

</tr>

</table>

</table>

+
+
+
+
+
+

<hr>

<hr>

[[FTD Florist Link Administration|Back to FTD Florist Link Administration]]

[[FTD Florist Link Administration|Back to FTD Florist Link Administration]]
---
Current revision
| | |
| --- | --- |
| | This information applies to FTD Mercury X2 Fall and later versions and Mercury Cloud. If you are an FTD Mercury and not on one of the versions where FTD Florist Link is included, contact the Mercury Technology Assistance Center (MTAC) at 1-888-309-2244 for information on how to upgrade to the current version. |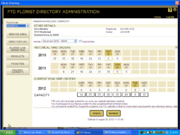 The Holiday Capacity page lets you set the total number of FTD wire-in orders (FTD.com orders and florist-to-florist orders) that you can fulfill during the major floral holiday periods. To help you make intelligent decisions about your capacity, historical wire orders for the same period during each of the last two years is provided as a reference.
When you access the page by clicking the Holiday Capacity button in FTD Florist Link Administration, you are able to see the details for the store relating to the holiday capacity (to ensure you are looking at the correct shop code). You are also able to select the floral holiday from the Holiday list. Below the list, your historical wire orders are displayed by year - each day and date provided in a calendar-like view. If it helps you visualize the days before and after the holiday, you can click the Align Holiday check box to align the calendars. The number below each date is the combined number of FTD.com and florist-to-florist orders you fulfilled on that date for that year.
The Current Year Wire Orders section shows the number of orders received for the dates in the current year. The Capacity row shows the number of orders (FTD.com and florist-to-florist) that you anticipate you can fill for each date in the holiday period. If you are coming in to Holiday Capacity prior to a major floral holiday for the first time, there may already be numbers in the Capacity row; these are estimates provided by FTD based on historical data. If you want to change the capacity, simply change the number for one or more dates and click Update. Changes are immediate. If you are in a holiday period and want to see updated orders received for the period, click Refresh.
If the number of wire orders sent to you exceeds your capacity number for a delivery day in the holiday period, FTD.com will stop accepting orders for you for that day. If you raise your capacity for a delivery day, you have the potential to receive additional FTD.com orders again. If you want all orders to stop, you must suspend your system (FTD Mercury/Mercury Connect or Mercury Direct) to stop florist-to-florist orders.
| | |
| --- | --- |
| | Contact FTD Florists Online (FOL) Support to suspend your FOL website so that no more orders are placed for any individual delivery date. |
For more information on maintaining your holiday capacity in FTD Florist Link, we have created a short training video:
---