Delivery Fees by City
From FloristWiki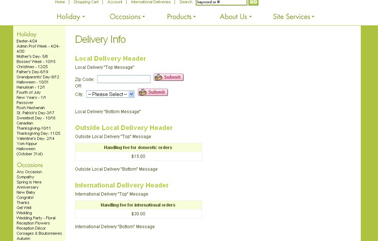 Delivery Fees can be set on your site by individual city. You may charge more to deliver to one city than you do another. Make sure your website is charging the delivery fees correctly.


In order to change the delivery fees by city:

Log in to Web Portal and click Administration on the top
On the left, click Delivery & Shipping
On the left under Delivery & Shipping, click By City
In the dropdown next to each city, select Florist Default or Override
If you select Override, input the Override price

If you select Override but do not input an Override price, your customer will be charged $0 for delivery in that city.


If you select Florist Default, the customer will be charged the Florist Default Delivery Fee regardless of what you input as an Override Price.


If there is a city missing from your list, contact Florists Online Support at floristsonline@ftdi.com or 800-576-6721.

Related Videos
| | | |
| --- | --- | --- |
| Video Name | Running Time | Streaming Flash Video |
| Setting Delivery Fees by City | 2:46 | Link |
| Setting Default Delivery Fees | 3:39 | Link |
| Setting Delivery Fees by Zip | 3:00 | Link |
Related Articles
How do I set the Florist Default Delivery Fee?
How do I set delivery fees by zip or postal code?
How do I change the message on my Delivery Info page?
How do I change the service fee for orders placed on my website?
Can a customer place an order on my site for pick-up at my store?
Can I set a different delivery fee for a specific product?
How do I change the same-day delivery cut-off times?


Can't find an answer to your question? Fill out our training request or contact us at either 800-576-6721 or floristsonline@ftdi.com.