Dashboard
From FloristWiki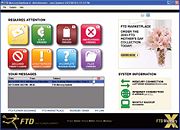 Designed to give you immediate visibility into today's orders and messages, the FTD Mercury Dashboard allows you to quickly review important information about your store so you can make day-to-day decisions about your business. You can even drill down into issues and immediately address problems in FTD Mercury. Dashboard also can help you determine the tasks you still need to perform before closing your shop at the end of the day.
The Dashboard is a snapshot of current activities in your shop, but some indicators may include dates in the past or future dates. These indicators are designed to help you keep a pulse on your shop operations; at the end of the day, ideally you would like all of the major indicator buttons to be disabled (meaning nothing remains that requires your attention).
If your Dashboard is clear at the end of the day, you can proceed to other end of day tasks, such as performing z-out transactions, balancing your cash drawers, and preparing your bank deposit.
Topics
---