Advanced Classroom Training
From FloristWiki
(Difference between revisions)
Line 11:
Line 11:

=What will this cost me?=

=What will this cost me?=

===What FTD will cover for you===

===What FTD will cover for you===

-

*Your hotel is covered by FTD for Monday, Tuesday, & Wednesday night. Check out is on Thursday before departing to FTD for the last day of class. Any incidentals are the responsibility of the attendee(s). Please note: attendee(s) wishing to arrive earlier or stay longer for personal pleasure are welcome to take advantage of the FTD Florist Training corporate rates with the hotel. Please notify the Mercury Training Staff at least 2 weeks prior to your arrival into Chicago if you plan on extending your stay in Chicago.

+

*hotel is covered by FTD for MondayTuesday Wednesday . Check out is on Thursday before departing to FTD for the last day of class. Any incidentals are the responsibility of the attendee(s). Please note: attendee(s) wishing to arrive earlier or stay longer for personal pleasure are welcome to take advantage of the FTD Florist Training corporate rates with the hotel. Please notify the Mercury Training Staff at least 2 weeks prior to your arrival into Chicago if you plan on extending your stay in Chicago.

*Transportation is provided to and from FTD every day via the hotel shuttle.

*Transportation is provided to and from FTD every day via the hotel shuttle.

-

*The hotel shuttle does not provide transportation to and from any of the Chicago airports. Arrangements must be made by the attendee(s) for getting to hotel the day of your arrival into Chicago, reach destinations farther then 10 miles from the hotel, and Thursday after class to get back to airport.

+

*The hotel shuttle does not provide transportation to and from any of the Chicago airports. Arrangements must be made by the attendee(s) for getting to hotel the day of your arrival into Chicago, reach destinations farther then miles from the hotel, and Thursday after class to get back to airport.

*Transportation can also be provided by the hotel to reach the many shopping malls & restaurants in the area as the hotel is centrally located in the middle of all the activities. And if you are feeling adventurous the hotel can also provide transportation to the train station for those wishing to take in the sights of Chicago. Many attendees visit Chicago Wednesday night as downtown Chicago has a firework show Memorial Day to Labor Day. [http://lombard.place.hyatt.com/hyatt/hotels/place/activities.jsp You may visit the hotels website for a listing of some of the shopping and restaurants available in the immediate area by clicking here.] Please note that any communication with the hotel should be directed to the training department to handle to avoid confusion.

*Transportation can also be provided by the hotel to reach the many shopping malls & restaurants in the area as the hotel is centrally located in the middle of all the activities. And if you are feeling adventurous the hotel can also provide transportation to the train station for those wishing to take in the sights of Chicago. Many attendees visit Chicago Wednesday night as downtown Chicago has a firework show Memorial Day to Labor Day. [http://lombard.place.hyatt.com/hyatt/hotels/place/activities.jsp You may visit the hotels website for a listing of some of the shopping and restaurants available in the immediate area by clicking here.] Please note that any communication with the hotel should be directed to the training department to handle to avoid confusion.

*While staying at the hotel be sure to take advantage of the amenities they have.

*While staying at the hotel be sure to take advantage of the amenities they have.

**Complimentary Internet

**Complimentary Internet

**Complimentary Continental Breakfast

**Complimentary Continental Breakfast

-

**42 inch Plasma TV

**On-Demand Movies (cost of movies are the responsibility of the guests of the hotel)

**On-Demand Movies (cost of movies are the responsibility of the guests of the hotel)

**Indoor Swimming Pool

**Indoor Swimming Pool

-

**Wireless Internet available in the lobby

+

**-

-

**24hr Mini-Market

+

**

-

**Stay Fit Gym

+

*is provided by the hotel and lunch is provided by FTD every day.

-

*Food is the most important part of life so breakfast is provided by the hotel and lunch is provided by FTD every day.

+

===Out of Pocket Expense===

===Out of Pocket Expense===

Line 30:
Line 28:

*Transportation to and from airport is also 100% the responsibility of the attendee(s). However, discounted rates for taxis & limo services are available to you. Please note we have no control over the cost associated with taxis and limos. We do, however, highly recommend all transportation are prearranged prior to your arrival to get the cheapest rates possible.

*Transportation to and from airport is also 100% the responsibility of the attendee(s). However, discounted rates for taxis & limo services are available to you. Please note we have no control over the cost associated with taxis and limos. We do, however, highly recommend all transportation are prearranged prior to your arrival to get the cheapest rates possible.

*Any adventures you wish to endure before or after class are also 100% the responsibility of the attendee(s).

*Any adventures you wish to endure before or after class are also 100% the responsibility of the attendee(s).

-

*If you desire to arrive or stay longer for personal pleasure, you are welcome to take advantage of the FTD Florist Training corporate rates with the hotel. Please notify the Mercury Training Staff at least 2 weeks prior to your arrival into Chicago otherwise you may be subjected to pay the Hyatts published rates.

+

 

=What will be covered in class?=

=What will be covered in class?=
---
Revision as of 11:47, 2 May 2018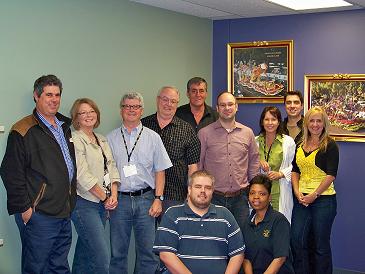 All FTD Technology Training is by appointment only and you must be confirmed for all training programs. To register please email techeducation@ftdi.com or click here to request registration or to learn more


Please Note: Training topics, schedules, and content are subject to change without notice. You need to be confirmed for any training program at least 72 hours prior to the start of any web-based training and at least a week prior to any classroom-based training in Downers Grove. If you have not been confirmed for a class or web-based training, please click here to contact the Mercury Training Team to receive confirmation. All training is performed with the latest version of FTD Mercury, and it is strongly recommended you upgrade to the current version at no charge. Training for older versions of FTD Mercury is not available.
What will this cost me?
What FTD will cover for you
One night hotel stay is covered by FTD for Monday. The additional two nights of Tuesday and Wednesday are the attendee(s) responsibility. Check out is on Thursday before departing to FTD for the last day of class. Any incidentals are the responsibility of the attendee(s). Please note: attendee(s) wishing to arrive earlier or stay longer for personal pleasure are welcome to take advantage of the FTD Florist Training corporate rates with the hotel. Please notify the Mercury Training Staff at least 2 weeks prior to your arrival into Chicago if you plan on extending your stay in Chicago.
Transportation is provided to and from FTD every day via the hotel shuttle.
The hotel shuttle does not provide transportation to and from any of the Chicago airports. Arrangements must be made by the attendee(s) for getting to hotel the day of your arrival into Chicago, reach destinations farther then 5 miles from the hotel, and Thursday after class to get back to airport.
Transportation can also be provided by the hotel to reach the many shopping malls & restaurants in the area as the hotel is centrally located in the middle of all the activities. And if you are feeling adventurous the hotel can also provide transportation to the train station for those wishing to take in the sights of Chicago. Many attendees visit Chicago Wednesday night as downtown Chicago has a firework show Memorial Day to Labor Day. You may visit the hotels website for a listing of some of the shopping and restaurants available in the immediate area by clicking here. Please note that any communication with the hotel should be directed to the training department to handle to avoid confusion.
While staying at the hotel be sure to take advantage of the amenities they have.

Complimentary Internet
Complimentary Continental Breakfast
On-Demand Movies (cost of movies are the responsibility of the guests of the hotel)
Indoor Swimming Pool
On-Site Convenience Store
Fitness Center

Breakfast is provided by the hotel and lunch is provided by FTD every day.
Out of Pocket Expense
Transportation to Chicago is 100% the responsibility of the attendee(s) whether you decide to fly or drive.
Transportation to and from airport is also 100% the responsibility of the attendee(s). However, discounted rates for taxis & limo services are available to you. Please note we have no control over the cost associated with taxis and limos. We do, however, highly recommend all transportation are prearranged prior to your arrival to get the cheapest rates possible.
Any adventures you wish to endure before or after class are also 100% the responsibility of the attendee(s).
What will be covered in class?
| Customer Maintenance | Statements | House Accounts |
| --- | --- | --- |
| Backups | Virus & Spyware | Suggest Improvements for FTD Mercury |
| Advanced Order Entry | Advanced Point of Sale | Wire Reconciliation |
| Event Planner | Generate E-Mail Marketing Campaigns | Schedule E-Mail Marketing Campaigns |
| Delivery Module | FTD Mercury Mobile Plus | Mercury Admin Customizations |
Travel Information you may need while in Chicago
Things you will be responsible for:
Please arrive into Chicago on Monday. Check-in at the hotel is 3:00pm.
Please schedule transportation to hotel from airport.
Please plan to check-out of hotel and bring your luggage with you to FTD Thursday morning.
Shuttle service may be arranged at the hotel for any activities after class.
Please schedule yourself a taxi or limo to take you from FTD back to airport.
Things FTD will pre-arrange for you:
Class Starts at 9:00am every morning
Hotel shuttle service will be pre-arranged to bring you to FTD every morning at 8:50am.
Hotel shuttle service will be pre-arranged to take you back to hotel every evening.
Upcoming Class Schedule for Advanced Training
SPACE IS LIMITED REGISTER TODAY

Click here to sign-up or request additional information
On Site Classes
Tuesday, November 7th to Thursday, November 9th